Christmas is fast approaching and we can expect movie goers to flock in cinemas this season. There are at least 30 movies due to be released internationally December this year. Out of the list, here are the ten movies you should not miss.
Alvin and the Chipmunks: Chipwrecked
Alvin and his buddies, including their love interests – the Chipettes – are back again in this third installment of the animated comedy series that rocked the world.
Dave (Jason Lee), the Chipmunks, and the Chipettes enjoy fun and mischief on a luxury cruise before their seafaring vacation takes an unexpected detour to an uncharted island. Now the harder Alvin and friends search for a way back to civilization, the more obvious it becomes that they aren't alone on this secluded island paradise.
Sherlock Holmes: A Game of Shadows
Sherlock Holmes (Robert Downey Jr.) has always been the smartest man in the room...until now. There is a new criminal mastermind at large--Professor Moriarty (Jared Harris)--and not only is he Holmes' intellectual equal, but his capacity for evil, coupled with a complete lack of conscience, may actually give him an advantage over the renowned detective. When the Crown Prince of Austria is found dead, the evidence, as construed by Inspector Lestrade (Eddie Marsan), points to suicide. But Sherlock Holmes deduces that the prince has been the victim of murder--a murder that is only one piece of a larger and much more portentous puzzle, designed by one Professor Moriarty. Mixing business with pleasure, Holmes tracks the clues to an underground gentlemen's club, where he and his brother, Mycroft Holmes (Stephen Fry) are toasting Dr. Watson (Jude Law) on his last night of bachelorhood. It is there that Holmes encounters Sim (Noomi Rapace), a Gypsy fortune teller, who sees more than she is telling and whose unwitting involvement in the prince's murder makes her the killer's next target. Holmes barely manages to save her life and, in return, she reluctantly agrees to help him. The investigation becomes ever more dangerous as it leads Holmes, Watson and Sim across the continent, from England to France to Germany and finally to Switzerland. But the cunning Moriarty is always one step ahead as he spins a web of death and destruction--all part of a greater plan that, if he succeeds, will change the course of history.
Mission: Impossible – Ghost Protocol
Academy Award-winning director Brad Bird (Ratatouille) makes his live action feature directorial debut with the fourth installment of the massively successful Mission Impossible series. The Kremlin has been bombed, and the blame has fallen on the IMF. As a result, the president initiates Ghost Protocol, and accuses Ethan Hunt (Tom Cruise) and his team of placing the bomb in an attempt to incite a global nuclear war. Now in order to clear the IMF of terrorism charges, Ethan assembles a new team to uncover the truth by using every high-tech trick in the book. But this time they're on their own, and should they be caught, the entire world could be plunged into a nightmare from which there is no waking up. Jeremy Renner, Paula Patton, and Simon Pegg co-star the movie.
Carnage
Carnage is a razor sharp, biting comedy centered on parental differences. After two boys duke it out on a playground, the parents of the "victim" invite the parents of the "bully" over to work out their issues. A polite discussion of childrearing soon escalates into verbal warfare, with all four parents revealing their true colors. None of them will escape the carnage.
This movie is directed by Roman Polanski and distributed by Sony Pictures Classics. Kate Winslet, Jodie Foster, Christopher Waltz and John C. Reilly star the movie.
New Year's Eve
Director Garry Marshall follows up his surprise hit Valentine's Day with this all-star ensemble film featuring a cast that includes Robert De Niro, Michelle Pfeiffer, Hilary Swank, and Ashton Kutcher.
Others to join the ensemble casts are Jessica Biel, Halle Berry and Jon Bon Jovi. Distributed by Warner Bros., the movie is due to be released by December 12.
The Iron Lady
The Iron Lady is a surprising and intimate portrait of Margaret Thatcher (Meryl Streep), the first and only female Prime Minister of The United Kingdom. One of the 20th century's most famous and influential women, Thatcher came from nowhere to smash through barriers of gender and class to be heard in a male dominated world.
The Weinstein Company distributed the movie. Directed by Phyllida Lloyd, the movie also stars Harry Lloyd, Jim Broadbent, Anthony Head, and Alexandra Roach.
The Adventures of Tintin
The Adventures of Tintin is a family action film directed by Steven Spielberg. Released by Paramount Pictures in December 21, the movie stars Jamie Bell, Daniel Craig, Andy Serkis, Simon Pegg and Nick Frost.
Director Steven Spielberg kicks off the big screen Tintin trilogy with this computer-animated motion-capture adaptation of Georges Remi's beloved Tintin comic strip.
The Girl with a Dragon Tattoo
A discredited journalist (Daniel Craig) and a mysterious computer hacker discover that even the wealthiest families have skeletons in their closets while working to solve the mystery of a 40-year-old murder in this David Fincher-directed remake of the 2009 Swedish thriller of the same name. Inspired by late author Stieg Larsson's successful trilogy of books, The Girl with the Dragon Tattoo gets under way as the two leads (Daniel Craig and Rooney Mara) are briefed in the disappearance of Harriet Vanger, whose uncle suspects she may have been killed by a member of their own family. The deeper they dig for the truth, however, the greater the risk of being buried alive by members of the family, who will go to great lengths to keep their secrets tightly sealed.
Young Adult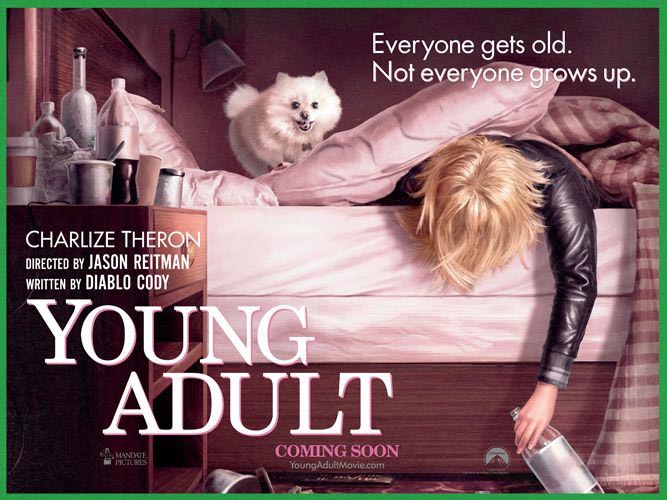 Academy Award winner Charlize Theron plays Mavis Gary, a writer of teen literature who returns to her small hometown to relive her glory days and attempt to reclaim her happily married high school sweetheart (Patrick Wilson). When returning home proves more difficult than she thought, Mavis forms an unusual bond with a former classmate (Patton Oswalt) who hasn't quite gotten over high school, either.
This romantic comedy with the theme of homecoming and unrequited love will hit the cinemas by the twelfth of December. The film is directed by Jason Reitman and distributed by Paramount Pictures.
Extremely Loud and Incredibly Close
Based on the novel by author Jonathan Safran Foer, director Stephen Daldry's post-9/11 drama follows the journey of a nine-year-old boy as he attempts to solve a family mystery. Two years after his father is killed in the September 11th terrorist attacks, the curious boy discovers a mysterious key hidden in a household vase and begins an exhaustive search for the matching lock. Tom Hanks and Sandra Bullock star.