Message in a Bottle
is a 1999 romantic drama film based on a best-selling novel with the same name by Nicholas Sparks. It stars Kevin Costner, Robin Wright Penn, and Paul Newman, and is directed by Luis Mandoki.
Plot.
The movie tells the love story of The Chicago Tribune reporter Theresa Osborne and the man she is writing a story about named Garret Blake.
On a trip to Cape Cod, researcher Theresa Osborne finds a mysterious, intriguing love letter in a bottle in the sand, sent by a Garret to a Catherine. Fascinated, Theresa publishes the letter and two more letters come into her possession. She eventually finds out the man to be Garret Blake and decides to track him down. She traces him to the outer banks of North Carolina where he lives quietly with his father Dodge. She learns that he has refurbished a boat called Happenstence with his wife Catherine before she died. All that time, Garret could not still get over Catherine's death.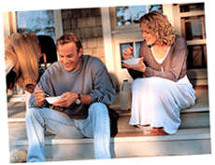 Theresa and Garret become better acquainted, but she hides her knowledge of the love letters and of her original intentions. Back in Chicago, Theresa's career flourishes as the romantic tale of the "message in a bottle" is told in print, without naming names. One day, Garret decides to take a trip to Chicago to visit Theresa and her young son.
Their new love grows, until Garret finds his letters in a drawer in Theresa's apartment. Garret angrily goes home by himself.
A year later, Dodge tracks down Theresa. He informs her that his son Garret has died at sea in a storm while attempting to rescue someone else. A bottle with a message inside was found on his boat. Theresa realizes that it was written a night before Garrett's last sailing. In it, he apologizes to Catherine and says that in Theresa he has found a new love, a love he must fight for.
Commentary.
Message in a Bottle
is the first of the many romantic novels by Nicholas Sparks that are adopted into film. Almost every single one of them deals with love and loss. In this film, love is dealt in a very painful way. Just as the guy accepted loss and found a new love, he dies and pains the woman who must now face the loss. It is very heart-breaking, but the coincidences that bind the story are realistic and believable. It is sad, but it makes you smile in the end, realizing that love really comes in mysterious ways and it is up to us to pursue it or let it pass.
Reception.
Message in a Bottle
opened at #1 the Valentine Day's weekend of 1999. However, Rotten Tomatoes gave the film a score of only 31% based on 35 reviews.
Rating.
I will give the movie five stars out of five. It is dramatic and sad, but very satisfying.