The first quarter of the year has just around. Oscar trophies have been given away and new movies have hit the cinemas. So what movies must be watched out for this March? Here are ten movies you should not miss.
From the creators of 'Despicable Me' and the imagination of Dr. Seuss comes the 3D-CG feature Dr. Seuss' The Lorax, an adaptation of the classic tale of a forest creature who shares the enduring power of hope. The animated adventure follows the journey of a 12-year-old boy as he searches for the one thing that will enable him to win the affection of the girl of his dreams. To find it he must discover the story of the Lorax, the grumpy yet charming creature who fights to protect his world.

Danny DeVito will lend his vocal talents to the iconic title character of the Lorax, while Ed Helms will voice the enigmatic Once-ler. Also bringing their talents to the film are global superstars Zac Efron as Ted, the idealistic youth who searches for the Lorax, and Taylor Swift as Audrey, the girl of Ted's dreams. Rob Riggle will play financial king O'Hare, and beloved actress Betty White will portray Ted's wise Grammy Norma.
Academy Award-nominated writer-director Paul Weitz ('About a Boy') turns his hand to this moving portrait of fathers and sons.

Based on a true story, Being Flynn follows Nick Flynn (Paul Dano of 'Little Miss Sunshine,' 'There Will Be Blood') who is shocked to have his eccentric and long-absent father, Jonathan (two-time Academy Award winner Robert De Niro) reach out to him unexpectedly. Still feeling the loss of his mother (played in flashbacks by four-time Academy Award nominee Julianne Moore) in the midst of starting a new relationship with Denise ('Juno''s Olivia Thirlby), the last person Nick wants to see is his father. But you can't outrun fate and slowly Nick comes to realize he has been given the chance to make a real future not only for himself, but for his struggling father too.
One of Terence Rattigan's most celebrated plays is given a new screen adaptation in this drama written and directed by Terence Davies. Hester Page (Rachel Weisz) is rescued in the midst of a suicide attempt by her landlady Mrs. Elton (Ann Mitchell) when she smells gas. As those around her ponder why a beautiful woman would choose such a fate, we learn that Hester is not really Hester at all -- she's actually Lady Collyer, the wife of well-known and well-respected judge Sir William Collyer (Simon Russell Beale). However, Lady Collyer has never known love or satisfaction in her marriage, and she fell into an affair with Freddie Page (Tom Hiddleston), a former RAF pilot. Lady Collyer has become hopelessly infatuated with Freddie, leaving her husband and living with Freddie under an assumed identity. But the woman who now calls herself Hester soon discovers she loves Freddie far more than he loves her, and between his drinking and his neglect, she given up her old life for one that has no future. This marks the second time The Deep Blue Sea has been brought to the screen; Vivien Leigh starred in the 1955 version directed by Anatole Litvak.
A decade after his heroic defeat of the monstrous Kraken, Perseus (Sam Worthington) -- the demigod son of Zeus (Liam Neeson) -- is attempting to live a quieter life as a village fisherman and the sole parent to his 10-year-old son, Helius. Meanwhile, a struggle for supremacy rages between the gods and the Titans. Dangerously weakened by humanity's lack of devotion, the gods are losing control of the imprisoned Titans and their ferocious leader, Kronos, father of the long-ruling brothers Zeus, Hades (Ralph Fiennes) and Poseidon (Danny Huston). The triumvirate had overthrown their powerful father long ago, leaving him to rot in the gloomy abyss of Tartarus, a dungeon that lies deep within the cavernous underworld. Perseus cannot ignore his true calling when Hades, along with Zeus' godly son, Ares (Edgar Ramirez), switch loyalties and make a deal with Kronos to capture Zeus. The Titans' strength grows stronger as Zeus' remaining godly powers are siphoned, and hell is unleashed on earth. Enlisting the help of the warrior Queen Andromeda (Rosamund Pike), Poseidon's demigod son, Argenor (Toby Kebbell), and fallen god Hephaestus (Bill Nighy), Perseus bravely embarks on a treacherous quest into the underworld to rescue Zeus, overthrow the Titans and save mankind.
One of the most beloved stories of all time is coming to life in the motion picture event, Mirror Mirror. A fresh and funny retelling of the Snow White legend, Mirror Mirror features breakout star Lily Collins ('The Blind Side') as Snow White, a princess in exile, and Oscar-winner Julia Roberts as the evil Queen who ruthlessly rules her captured kingdom. Seven courageous rebel dwarfs join forces with Snow White as she fights to reclaim her birthright and win her Prince in this magical adventure comedy filled with jealousy, romance, and betrayal that will capture the hearts and imaginations of audiences the world over. The film also stars Armie Hammer ('The Social Network') as the Prince, and Nathan Lane ('The Birdcage') as the hapless and bungling servant to the Queen.
Salmon Fishing in the Yemen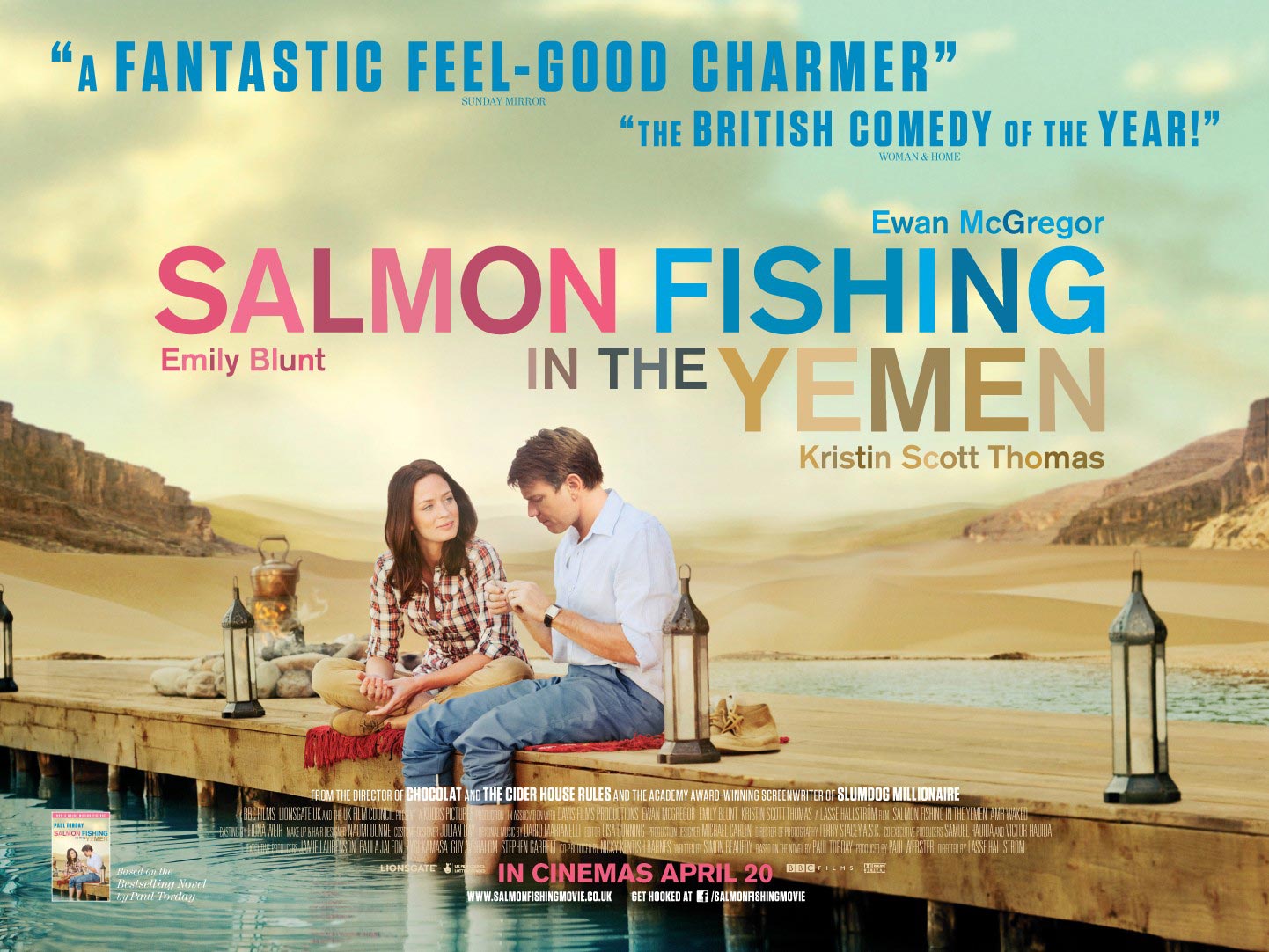 From the beloved director of 'Chocolat' and the Oscar-winning screenwriter of 'Slumdog Millionaire comes the inspirational comedy 'Salmon Fishing in the Yemen'. A visionary sheik (Amr Waked) has a big dream -- to bring salmon fishing to the desert. Willing to spare no expense, he instructs his representative (Emily Blunt) to turn his dream into reality, an extraordinary feat that will require the involvement of Britain's leading fisheries expert (Ewan McGregor) who happens to think the project both absurd and unachievable. That is, until the Prime Minister's overzealous press secretary (Kristin Scott Thomas) latches on for its potential as a "good will" story. Now, this unlikely team will put it all on the line and embark on an upstream journey of faith and fish to prove the impossible, possible.
From Academy Award-winning filmmaker Andrew Stanton comes 'John Carter'--a sweeping action-adventure set on the mysterious and exotic planet of Barsoom (Mars. 'John Carter' is based on a classic novel by Edgar Rice Burroughs, whose highly imaginative adventures served as inspiration for many filmmakers, both past and present. The film tells the story of war-weary, former military captain John Carter (Taylor Kitsch), who is inexplicably transported to Mars where he becomes reluctantly embroiled in a conflict of epic proportions amongst the inhabitants of the planet, including Tars Tarkas (Willem Dafoe) and the captivating Princess Dejah Thoris (Lynn Collins). In a world on the brink of collapse, Carter rediscovers his humanity when he realizes that the survival of Barsoom and its people rests in his hands.
In the action-comedy '21 Jump Street,' Schmidt (Jonah Hill) and Jenko (Channing Tatum) are more than ready to leave their adolescent problems behind. Joining the police force and the secret Jump Street unit, they use their youthful appearances to go undercover in a local high school. As they trade in their guns and badges for backpacks, Schmidt and Jenko risk their lives to investigate a violent and dangerous drug ring. But they find that high school is nothing like they left it just a few years earlier -- and neither expects that they will have to confront the terror and anxiety of being a teenager again and all the issues they thought they had left behind.
Armando Alvarez (Will Ferrell) has lived and worked on his father's ranch in Mexico his entire life. As the ranch encounters financial difficulties, Armando's younger brother Raul (Diego Luna) shows up with his new fiancee, Sonia (Genesis Rodriguez). It seems that Raul's success as an international businessman means the ranch's troubles are over as he pledges to settle all debts his father has incurred. But when Armando falls for Sonia, and Raul's business dealings turn out to be less than legit, all hell breaks loose as they find themselves in a war with Mexico's most feared drug lord, the mighty Onza (Gael Garcia Bernal).
Director Tony Kaye's ('American History X') long-awaited film 'Detachment' stars Academy Award winner Adrien Brody as Henry Barthes, a substitute teacher who conveniently avoids any emotional connections by never staying anywhere long enough to form a bond with either his students or colleagues. A lost soul grappling with a troubled past, Henry finds himself at a public school where an apathetic student body has created a frustrated, burned-out administration. Inadvertently becoming a role model to his students, while also bonding with a runaway teen who is just as lost as he is, Henry finds that he's not alone in a life and death struggle to find beauty in a seemingly vicious and loveless world.