The love month is coming and another load of movies shall hit the cinemas. So which movies must be watched this February? Which movies are just perfect for the season of love? Here are ten movies you must not miss this February.
Ghost Rider: Spirit of Vengeance
Nicolas Cage returns as the spirit of vengeance with this sequel to 2007's Ghost Rider from the Crank team of Mark Neveldine and Brian Taylor. Other than Cage, Ciaran Hinds, Violante Placido and Idris Elba star in this back-breaking movie. The film has a rating of PG-13 for intense sequences of action and violence, some disturbing images, and language.
Paul Rudd and Jennifer Aniston star in 'Wanderlust,' a raucous comedy from director David Wain ('Role Models') and producer Judd Apatow ('Knocked Up') about a couple who leaves the pressures of the big city and joins a freewheeling community where the only rule is to be yourself.

George (Rudd) and Linda (Aniston) are an overextended, stressed out Manhattan couple. After George is downsized out of his job, they find themselves with only one option: to move in with George's awful brother in Atlanta.

On the way there, George and Linda stumble upon Elysium, an idyllic community populated by colorful characters who embrace a different way of looking at things. Money? It can't buy happiness. Careers? Who needs them? Clothes? Only if you want them.

Is Elysium the fresh start George and Linda need? Or will the change of perspective cause more problems than it solves?
Star Wars: Episode I – The Phantom Menace 3D
In 1977, George Lucas released Star Wars, the ultimate sci-fi popcorn flick-turned-pop-culture myth machine. It quickly became the biggest money-making film of all time and changed the shape of the film industry. After two successful sequels (1980's The Empire Strikes Back and 1983's Return of the Jedi) that extended the story of the first film, Lucas took some time off to produce movies for others, with mixed success. In 1999, Lucas returned to the Star Wars saga with a new approach -- instead of picking up where Return of the Jedi left off, Star Wars: Episode I -- The Phantom Menace would be the first of a trilogy of stories to trace what happened in the intergalactic saga before the first film began. Here, Obi-Wan Kenobi (Ewan McGregor) is a young apprentice Jedi knight under the tutelage of Qui-Gon Jinn (Liam Neeson); Anakin Skywalker (Jake Lloyd), who will later father Luke Skywalker and become known as Darth Vader, is just a nine-year-old boy. When the Trade Federation cuts off all routes to the planet Naboo, Qui-Gon and Obi-Wan are assigned to settle the matter, but when they arrive on Naboo they are brought to Amidala (Natalie Portman), the Naboo queen, by a friendly but opportunistic Gungan named Jar Jar. Qui-Gon and Obi-Wan plan to escort Amidala to a meeting of Republic leaders in Coruscant, but trouble with their spacecraft strands them on the planet Tatooine, where Qui-Gon meets Anakin, the slave of a scrap dealer. Qui-Gon is soon convinced that the boy could be the leader the Jedis have been searching for, and he begins bargaining for his freedom and teaching the boy the lessons of the Force. The supporting cast includes Pernilla August as Anakin's mother, Terence Stamp as Chancellor Valorum, and Samuel L. Jackson as Jedi master Mace Windu. Jackson told a reporter before The Phantom Menace's release that the best part about doing the film was that he got to say "May the Force be with you" onscreen.
The Woman in Black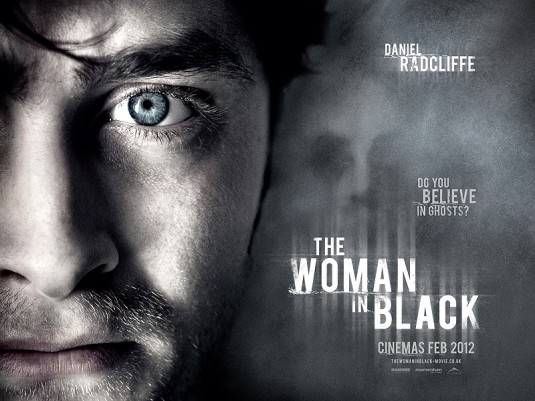 A young lawyer (Daniel Radcliffe) travels to a remote village where he discovers the vengeful ghost of a scorner woman is terrorizing the locals. Ciara Hinds, Janet McTeer, Shaun Dooley and David Burke complete the cast in this CBS Films production, directed by James Watkins.
Safe House
Oscar winner Denzel Washington and Ryan Reynolds star in the action-thriller 'Safe House.' Washington plays the most dangerous renegade from the CIA, who comes back onto the grid after a decade on the run. When the South African safe house he's remanded to is attacked by mercenaries, a rookie operative (Reynolds) escapes with him. Now, the unlikely allies must stay alive long enough to uncover who wants them dead.

For the past year, Matt Weston has been frustrated by his inactive, backwater post in Cape Town. A "housekeeper" who aspires to be a full-fledged agent, the loyal company man has peen waiting for an opportunity to prove himself. When the first and only occupant he's had proves to be the most dangerous man he's ever met, Weston readies for duty.

Tobin Frost has eluded capture for almost a decade. One of the best ops men that CIA's known, the ex-intelligence officer has given up assets and sold military intel to anyone with cash since he turned. From tracings secrets to North Korea to aiding splinter cells, the damage he's done to the U.S. is immeasurable. And he's now back on the reservation with a secret.

As soon as Frost is brought in for debriefing, mercenaries come and tear apart Weston's safe house. Barely escaping, the unlikely partners must discover if their attackers have been sent by terrorists or someone on the inside who will kill anyone standing in the way. Now it's up to Weston to figure out who he can trust before they're both eliminated from the game.
Journey 2: The Mysterious Island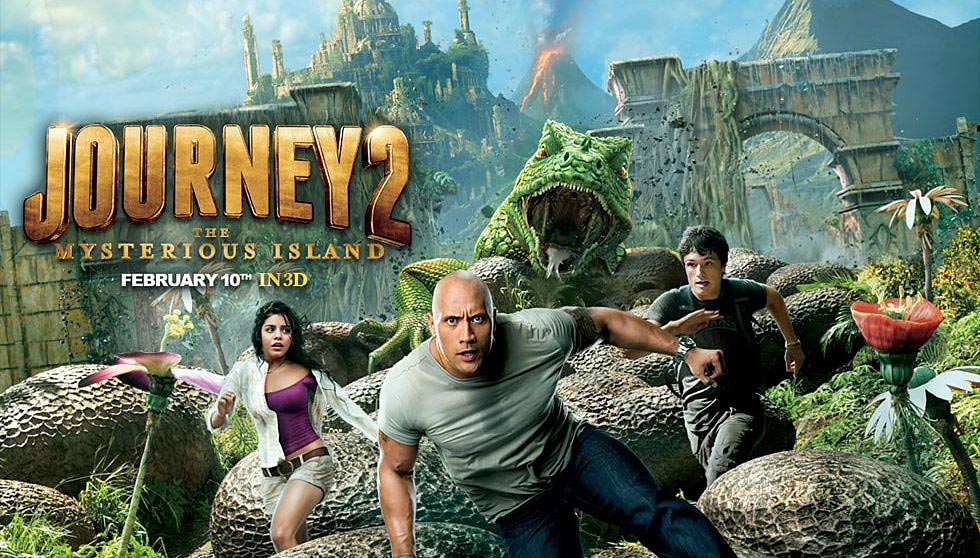 In this follow-up to the 2008 worldwide hit 'Journey to the Center of the Earth,' the new 3D family adventure 'Journey 2: The Mysterious Island' begins when young Sean Anderson (Josh Hutcherson, reprising his role from the first film) receives a coded distress signal from a mysterious island where no island should exist. It's a place of strange life forms, mountains of gold, deadly volcanoes, and more than one astonishing secret.

Unable to stop him from going, Sean's new stepfather, Hank (Dwayne Johnson), joins the quest. Together with a helicopter pilot (Luis Guzman) and his beautiful, strong-willed daughter (Vanessa Hudgens), they set out to find the island, rescue its lone inhabitant and escape before seismic shockwaves force the island under the sea and bury its treasures forever.
The Vow
A husband endeavors to win back his new bride's heart after she loses her memory in a tragic car accident in this omantic drama starring Rachel McAdams and Channing Tatum. Also in the cast are Sam Neill, Jessica Lange and Scott Speedman. Distributed by Sony, the movie is directed by Michael Sucsy.
Big Miracle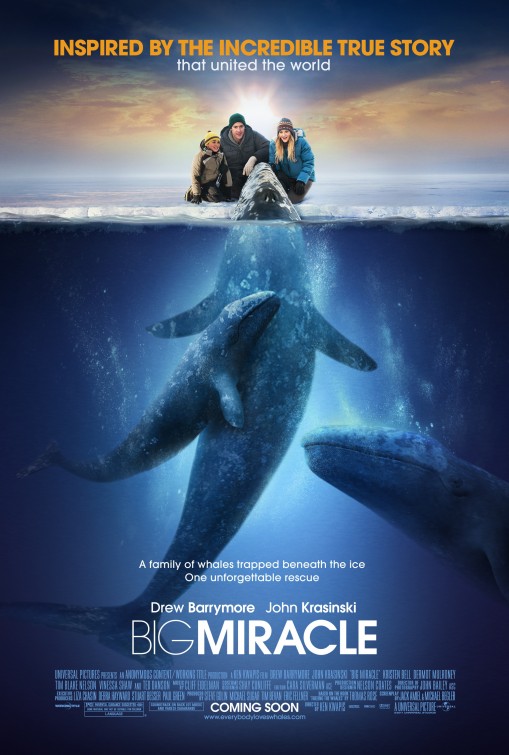 Inspired by the true story that captured the hearts of people across the world, the rescue adventure 'Big Miracle' tells the amazing tale of a small town news reporter (John Krasinski) and a Greenpeace volunteer (Drew Barrymore) who are joined by rival world superpowers to save a family of majestic gray whales trapped by rapidly forming ice in the Arctic Circle.

Local newsman Adam Carlson (Krasinski) can't wait to escape the northern tip of Alaska for a bigger market. But just when the story of his career breaks, the world comes chasing it, too. With an oil tycoon, heads of state and hungry journalists descending upon the frigid outpost, the one who worries Adam the most is Rachel Kramer (Barrymore). Not only is she an outspoken environmentalist, she's also his ex-girlfriend.

With time running out, Rachel and Adam must rally an unlikely coalition of Inuit natives, oil companies and Russian and American military to set aside their differences and free the whales. As the world's attention turns to the top of the globe, saving these endangered animals becomes a shared cause for nations entrenched against one another and leads to a momentary thaw in the Cold War.
Gone
In the new suspense thriller 'Gone,' Jill Parrish (Amanda Seyfried) comes home from a night shift to discover her sister Molly has been abducted. Jill, who had escaped from a kidnapper a year before, is convinced that the same serial killer has come back for her sister. Afraid that Molly will be dead by sundown, Jill embarks on a heart-pounding chase to find the killer, expose his secrets and save her sister. Released by Summit Entertainment, the movie is directed by Heitor Dhalia.




This Means War
Chris Pine and Tom Hardy portray the world's deadliest CIA operatives, as well as inseparable partners and best friends...until they fall for the same woman (Reese Witherspoon). Having once helped bring down entire enemy nations, they are now employing their incomparable skills and an endless array of high-tech gadgetry against their greatest nemesis ever - each other. The movie is distributed by 20th Century Fox.