Y Tu Mama Tambien (Spanish: "And You Mama Too") is a 2001 Mexican coming-of-age drama film. It stars Mexican actors Diego Luna and Gael Garcia Bernal and Spanish actress Maribel Verdu. It is directed by Alfonso Cuaron and co-written with his brother Carlos. It is internationally distributed by 20th Century Fox.
Plot. The movie tells about the story of two teenage boys who take a road trip with a married woman in her late twenties. The boys are Julio, who comes from a leftist middle-class family, and Tenoch whose father is a high-ranking political official. The woman is Luisa, the Spanish wife of Tenoch's cousin.
The movie begins with scenes of the two boy having sex with their girlfriends who would leave on a trip to Italy. Later, the boys are invited in a wedding where they meet and talk with the sexy and beautiful Luisa. To impress her, they invent a secluded beach called "Heaven's Mouth" and invite her to discover the place with them. Luisa declines at first, but after her husband confides on the phone that he has cheated her, she decides to join them.
The three then sets off for the beach, though the boys are not really sure where to find it. The three spend the time traveling through poor, rural Mexico and talking about their relationships and sexual experiences.
On a worn-out motel, Luisa telephones his husband and leaves a goodbye message on his answering machine. Tenoch goes to her room looking for shampoo but is instead seduced by her. Enthusiastically, he makes love with her. Julio discovers this and retaliates by revealing that he had sex with Tenoch's girlfriend. On the next day, Luisa evens the score by having sex with Julio. Tenoch is also angered by this and tells Julio that he had sex with his girl.
By chance, they find an isolated beach and decide to enjoy and relax there, under the company of a local family. That evening, the three drink and joke excessively. Several revelations are disclosed and the boys discover that they frequently had sex with the same women. "Y tu mama tambien," Julio says to Tenoch.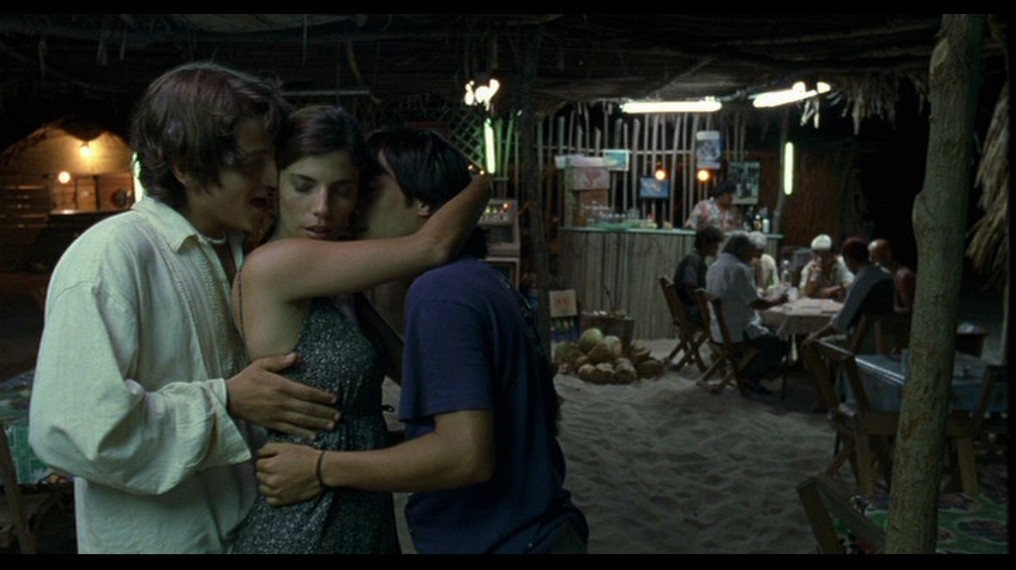 The three dances sensually and then go to their room. They begin to undress and are about to engage in a threesome when Luisa kneels and simultaneously takes both of them in her mouth. The boys then grasp and kiss each other passionately.
The next morning, Luisa rises early, leaving the boys to wake up together, naked. They immediately turn away from each other, and quietly and eagerly leave home. Luisa chooses to stay behind with an alibi to explore the nearby coves.
It is narrated that Julio and Tenoch both break up with their girlfriends after that, start to date other girls, and stop seeing each other. The final scene shows a chance encounter by the two young men a year later, in 2000. Awkwardly, they have a cup of coffee and catch up on each other's lives and news of their friends. Tenoch informs Julio that Luisa died of cancer a month after their trip, and that she knew she was ill the whole time they were together. With an excuse, Tenoch leaves and the two friends never see each other again.
Commentary.
Y Tu Mama Tambien appears to be shallow and simplistic because it tells only of a road trip of three people. Yet, the simple trip has become the transformation of two boys from childhood to manhood, and their rediscovery of themselves. With Luisa's erotic teasing, the boys learn the essence of love and sex as both are obsessed only with their size and orgasm. Though they had sex in the end of their trip, the movie does not reveal if their gays or not. It was a heated scene and their overwhelming desires drove them perform an embarrassing yet pleasurable act. It was a kind of "crime of passion" that forever changes how they look at sex, love and life. For the woman, the road trip is her own trip to freedom and solitude. Through the boys, she learns the fragility and happiness of life.
The movie parallels with Mexican life. The trip takes us into the roads of Mexico and its common people, their poor and basic lives, and how such simplicity transcends into contentment and peace.
Y Tu Mama Tambien
is an adult and mature film. There are countless moments of sex and nudity (with the most private parts exposed). There are so much tension, sex, and adventure in the movie and then suddenly ends. It is not dull, it is fluid and dynamic, and the plot builds up into a shocking climax. For those weak at heart (and eyes), it is certainly not for them.
Reception.
The film is a huge critical success with 91% of critics gave a positive rating at Rotten Tomatoes. At Metacritic, it received an average score of 88 out of 100.
The film also received numerous awards and nominations, including a nomination for Best Foreign Language Film at the Golden Globe Award. Moreover, it was named as one of the best film created by many magazines, including Empire magazine, Entertainment Weekly, and New York Times.
Rating: Four and a half stars for this movie. This is one of the best films of this kind that I have seen. However, there is just too much nudity that may not be necessary.
See what others have to say about "Y Tu Mama Tambien."