Alpha Dog is a 2007 crime drama film written and directed by Nick Cassavetes. It stars then up-and-comer Anton Yelchin, Justin Timberlake, Emile Hirsch, Shawn Hatosy, Ben Foster, Olivia Wilde, Amanda Seyfried, Sharon Stone, and Bruce Willis. The movie is based on the true story of the kidnapping and murder of 15-year old Nicholas Markowitz in 2000. However, characters are given fictional names in the movie.
Plot. The movie tells the story of Johnny Truelove (The Alpha Dog), a young drug dealer in Claremont, California and his circle of friends – Frankie Ballenbacher, Tiko "TKO" Martinez, and Elvis Schmidt.
It opens with an interview with Sonny, Johnny Truelove's father, who supplies his son with marijuana. From the money he earns from dealing and selling drugs, Johnny owns his own house and frequently holds parties. One of Johnny's associates, a man named Jake Mazursky, owes Johnny a $1,200 drug debt but is unable to pay. After being told that Jake will never pay the money, Johnny retaliates and gets Jake fired from his job. Jake learns about it and later that night, he and his gang break into Johnny's house and rampage it. Vengeance does not stop here as next day, Johnny, Frankie, and Tiko head to Jake's home but he is not there. Instead, they found his younger brother Zack and decide to kidnap him in broad daylight.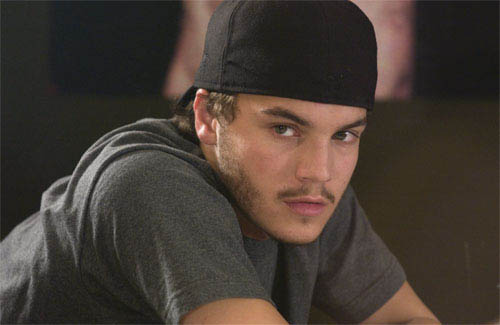 Zack tries to escape in the beginning, but after striking friendship with Frankie, he manages to get along with his abductors. Zack stays in Frankie's house, and later meets some of Frankie's friends, including Keith Stratten and Julie. They all learn of Zack's kidnapping, and a girl named Susan is the only one actually concerned about it. But everyone else, including Zack, treats everything as a joke. Meanwhile, Jake learns of the kidnapping and is instantly convinced that Johnny did it.
When his lawyer tells him he could get 25 years of imprisonment for kidnapping Zack, Johnny becomes increasingly anxious. He then approaches Elvis and offers to cancel his deep debt with Johnny if he kills Zack. After a night's party and to everybody's wonder, Frankie, Elvis, and another friend Keith trick Zack into thinking he is going home. They go up a hill where a grave has already been dug. Zack then begins to have suspicions, especially when Frankie hugs him goodbye. Elvis violently knocks Zack into the grave with the shovel and then fires at Zack with pistol, killing him. Frankie and Elvis then silently leave.
Despite all the cover up, Zack's body is found three days later. There have been many witnesses who account that Zack had been with Johnny's gang during the dates when he was missing. Gang members are soon found and arrested. After being convicted, Tiko, Keith, Frankie, Elvis and Johnny are all serve their respective sentences. However, Johnny is nowhere to be found.
Commentary. Alpha Dog takes us into the world of drugs and gangs. The movie has dark atmosphere, and from beginning to end, we see young people sniffing marijuana, partying in orgiastic spirits, and playing with violence and danger. Retaliation becomes a game and situations are jokes. It is a sad thing to see such thing on movie, but as it is based on true events, it is as good as saying that real life is as pathetic and evil as that.
Actors. The actors are very appropriate for their roles. Justin Timberlake, who played Frankie, is fit as the loyal but cowardly friend. Amanda Seyfried is also hot in the film as Zack's love interest. But the greatest credit would be for Anton Yelchin who played Zack Mazursky, whose raw emotion and innocence effectively portrayed the naïve victim.
Reception. Alpha Dog opened #7 during its first weekend. Globally, it was released for six weeks. On Rotten Tomatoes, 54% of reviews were positive.
Rating. Three stars out of five for this movie. Alpha Dog is a violent but touching movie. Yet, it is hard to distinguish it from other such movies, and I could not really find it remarkable or memorable. The subject matter is not something everyone can relate to, and the movie generally has no great emotional attachment to the audience.